With the 2020 Spring Festival holiday coming to an end, the coronavirus epidemic will enter a new stage of prevention and control. While the government has made an all-out effort to contain the threat thus far, responsibility for mitigating the effects and spread of the virus will reach to every company and its facilities.
But, there is no need to panic - Aden's recommended safety procedures will help you rise to the challenge as employees return to your workplace, creating a safe and healthy working environment for your employees and clients.

Step 1: Site-wide disinfection before your post-holiday opening
Given the incredible scale of human movement during the festival, it is essential that every facility prevent the virus from being transmitted at your site by returning workers or visitors. That's why pre-emptively disinfecting your premises is a must to keep your people safe and your site clear of infection. It will also ensure that your operations and services won't be disrupted and you can smoothly transition back to working at full speed for your clients. Aden's hygiene services conduct disinfection using chlorine-based bleaches or 75% alcohol solutions on all surfaces; interior walls and floors; equipment and high-traffic areas such as elevators and door handles.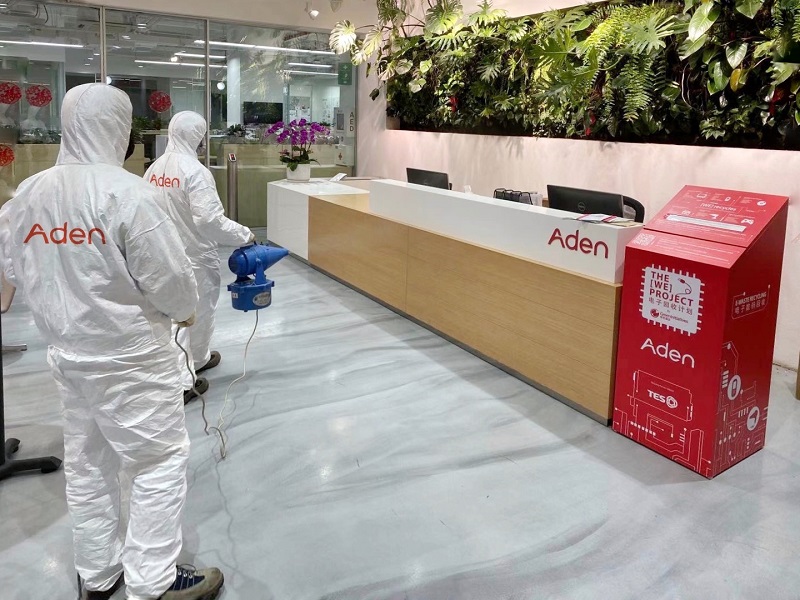 Step 2: Establish a dedicated team and SOP
It is no easy task to keep track of all of the actions that you have taken to secure your site. That's why it is incredibly important that you establish a Standard Operating Procedure as well as a dedicated team that are responsible for carrying out every necessary check and ensuring that all measures are implemented properly. This includes conducting a hygiene campaign in the office and ensuring the provision of handwash stations ithroughout your site. This team should also be responsible for sourcing consumable items such as disinfectant and facemasks. Aden's SOP model incorporates all of these important components via our extensive partnerships with vendors and our access to cutting-edge technical solutions such as security systems and robots that are able to automously carry out critical disinfection and hygiene solutions.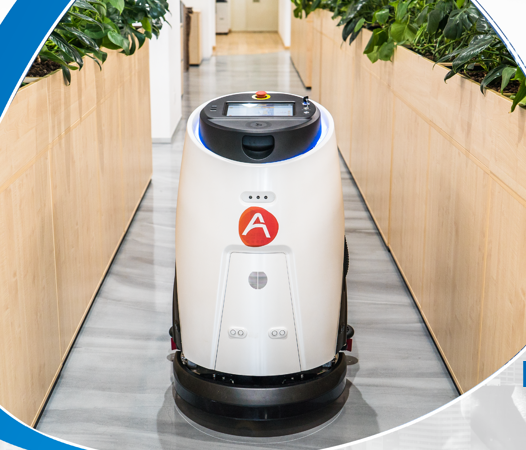 Step 3: Strict health checks for all employees
Before returning to work from holiday, each employee should be checked to make sure that they are fit to work, with no suspected symptoms. These checks should include daily morning temperature checks and being alert to any suspicious symptoms such as a fever, dry cough, fatigue, or chest tightness. This is especially important for those employees coming from regions which the crisis has hit hardest, who must abide by government policy of a 14-day absence from any work environments.

Aden recommends a human-centred approach towards employees in this understandably difficult time. Positive solutions should be devised and included in your SOP – provisions such as allowing employees to work remotely or commute on public transport outside of peak hours. It is also vital that employees are made aware of governmantal health recommendations and mandatory safety steps and are provided with basic needs at work, such as face masks. Aden's IFM division is currently working to support our clients to implement SOP's that meet business and employee needs as appropriate to each workplace.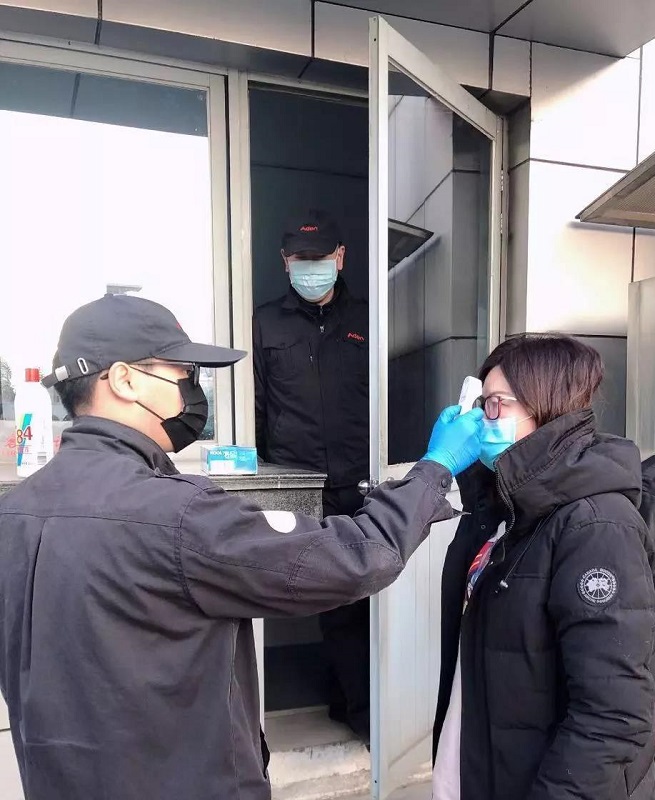 Step 4: Ongoing deep cleaning
To keep your workplace virus-free, it is vital that each site adheres to a strict schedule of regular deep cleaning and disinfection. For the coming 3 months, when coronavirus is likely to be at its peak, Aden recommends disinfection 4 times per day: morning, mid-day, afternoon and after work shifts.

During these cleaning sessions, it is vital that the disinfectors wear the proper protective equipment such as masks, goggles and rubber gloves. This regular action will not only ensure your facilities are clean but will also help your people maintain a high awareness level of the proper preventative procedures, even as staff resume their normal working routines.

Step 5: Stocking-up on hygiene products 
With everyone (justifiably) scrambling to stock their workplaces with all necessary hygiene products, it is understandable that many manufacturers cannot keep up with demand. This shortage makes planning even more essential to ensuring that your office is fully equipped. You should take steps now to guarantee that your office has dependable access to face masks, hand sanitizer, spraying equipment, disinfectants, infrared thermometers and all other essentials.

Managing suppliers and performing quality checks on all products is a top priority for Aden during this critical period. Aden recommends that your SOP contain clear guidelines on checking and recording all products that you receive. This ensures that you never run out of essentials and everything remains up to a standard of compliance.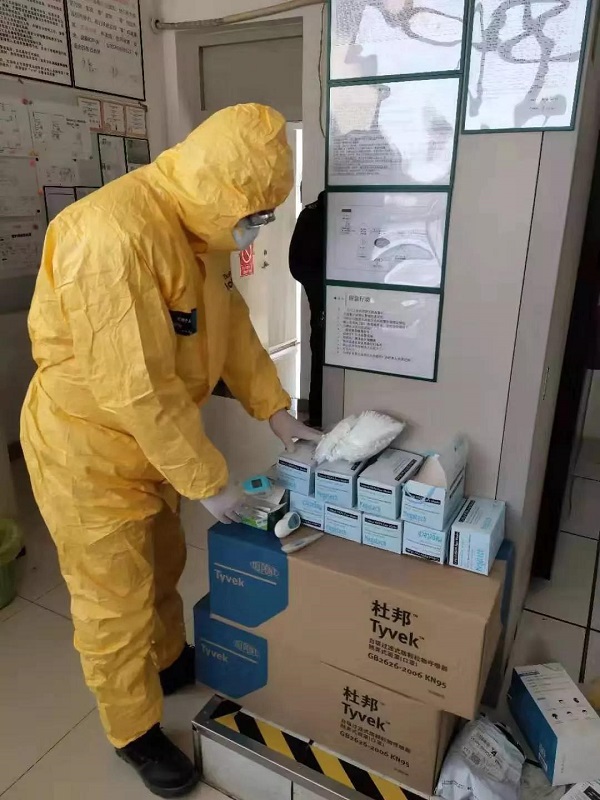 Step 6: Deal with hazardous waste
It is vitally important that, at the end of the cleaning process, all waste is managed properly to mitigate any further risks of contamination. Any staff member engaged in food, cleaning, sanitation or waste may be exposed to a higher level of risk. Therefore, a rigorous level of organisation and management is necessary. We recommend designating specific areas for collecting used cleaning materials and labelling all bags with potentially hazardous waste with clear indicators. 
Reducing the spread of coronavirus should be a core goal of all businesses operating at this time. Epidemic prevention is a global effort that requires co-operation. 
You can reach reach us by clicking the link below to complete a short survey assessing your needs: https://survey.adenservices.com/diaowen/oymo4schem.html
If you need any support in making sure that your premises are as safe and clean as possible as we all return to work, you can download our disinfection and hygiene solution brochure with these links: EN / CN